Hi everyone! It's time to show you guys my plans for the new year! (I know I'm a little late, but it was hard to narrow all my ideas down into one little make-nine.) This past year I made my first pair of pants, my favorite shorts ever, and a few skirts. Really though, my sense of style has changed in the little-over-a-year that I've been sewing/cataloguing my makes. Only the things I've made in the past few months are things I wear on an everyday basis. This year I need more high-waisted garments (aka I'M GONNA MAKE JEANS!!!) and I want to try out some outerwear. I also plan on embroidering on my entire wardrobe. Here's my #2018makenine!
Deer and Doe Mélilot Shirt
I got the Mélilot pattern a few months ago, back in September, and I cut it out in a pretty pencil fabric to test it out, the same fabric I used for this shirt. The same day that I bought the pattern, I also went to Brooklyn General and picked up some beautiful fabric with a car print on it. I'm yet to cut into this fabric because I still need to finish the Pencil Mélilot. I hope to finish by April at the latest, so I can wear both shirts all summer. I cut the first shirt in View B and I plan to do the same for the second shirt.
By Hand London Victoria Blazer
I bought this pattern as a Christmas Present for Margo, and since it was a PDF Pattern, I ended up with a copy saved to my computer too! I'm soooo excited to make this! I'm going to make the cropped version, and I have a plan to (hopefully) make two of them. I want to make one in a solid color (either army green or black) and one in a wild print (flowers, crazy stripes, or something similar.) For the solid one, I want to line it with this Eye-Print Fabric from Spoonflower to create a peekaboo effect. I'm really excited about that, and I want to make a matching skirt/shorts out of the solid fabric with welt pockets in the Eye-Print.
Deer and Doe Lupin Jacket
I'm also really excited about this jacket! They're both so pretty, and it'll be my first time sewing outerwear and my first time lining a garment. I might make this fabric in a floral or crazy print and make only one  solid Victoria Blazer, or I might switch it around and make a solid Lupin Jacket and a printed Victoria Blazer. I can't wait either way!!!
Katy & Laney Tap Shorts
As you'll soon see in a post about my first pair of these beauties, my copy of the Tap Shorts comes with a long story. I'm sooo happy to have the pattern and I can't wait to make a gazillion more pairs!! I might make a pair that matches one of my previously mentioned jackets-to-be. I'll make some in prints and some in solids, and I plan to try out piping!
Closet Case Patterns Ginger Skinny Jeans
I put this pattern on my Christmas list, so I reeeeaaaally hope to get it. If not, I'll buy it with my own money. Either way, I want to venture into the world of jeans! I currently have two pairs of jeans that fit, and both are thrifted, so it was just chance that I have them. I want to be able to actually wear normal skinny jeans (especially high waisted ones!!!).
McCall's 6556 Wide-Leg Pants Pattern
As you can see from the picture and from this post, I love these pants!!! I want to make some in a drapey fabric like rayon and another stiff fabric, a heavy cotton or a light canvas. These would also be cool in denim, wouldn't they? I see at least one pair of these pants in my future!
Simplicity 9662 2-Hour Skirt and/or a Maxi Quarter Circle Skirt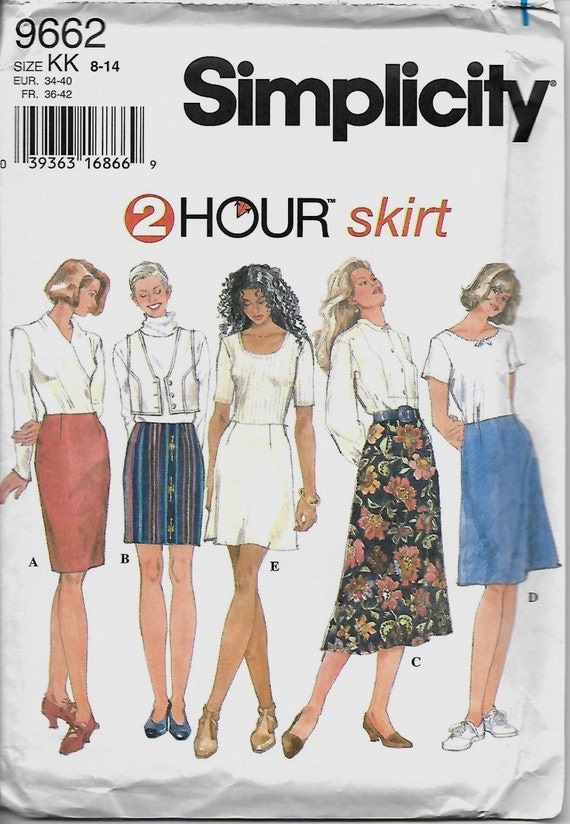 I have some bee-yooo-tee-full denim from almost a year ago that I have been saving for the perfect project. I think that an embroidered denim mini skirt might be the perfect project. I might make it as the pattern says, with a zipper up the back, or I might hack the pattern and make it a button-up front flared mini skirt. Either way, I think it'll be beautiful. The thing is, I also want to make a new floor-length rayon circle skirt, because my very favorite skirt in the whole world (a blue floral rayon 1/4 circle skirt) is decaying more and more each time I wear it. The seams are just falling apart. I really want to make a new one.
A Very Fancy Dress
At the end of this year, my school will be having an 8th Grade Prom. I want to make a really stunning dress to wear there. I don't have a pattern or fabric decided yet, but I do know that I love this neckline from Katie Ermilio's Spring 2012 Collection. I really want to do something like this, maybe with a simple flared skirt. On the other hand, I was also thinking about making a floor length black velvet dress, which would be amazing, but I'm afraid that I would look like a vampire queen in that dress.
Rosie the Riveter Folkwear #240
I may not have mentioned this on D&G before, but in addition to a sewist I am also a dancer.  For our spring performance this year, my class's theme is Rosie the Riveter. Because of this, I'm currently obsessed with all things Rosie the Riveter. This Folkwear pattern has pants, a top, and the prettiest overalls ever. I want to make all these things and tie my hair back with a red bandana!
Happy Sewing,
Knora
P.S. Margo does still exist! She just hasn't blogged in a while. Don't worry, she'll be back soon, she's been doing a bunch of beautiful embroidery lately too!